Gmail, a core component of Google Workspace, is a powerful and widely-used email platform that offers a number of features and benefits for both personal and business use. With over 1.5 billion active users worldwide, Gmail has become one of the most popular email services in the world. In this blog post, we will take a closer look at Gmail and its role within Google Workspace, including its key features, statistics, pros, and cons.
One of the primary advantages of Gmail is its integration with other Google services. As part of Google Workspace, Gmail allows users to easily access and share documents, calendars, and other files with their colleagues and contacts. This integration makes it simple for teams to collaborate and work together, even when working remotely. Additionally, Gmail's built-in security features, such as two-factor authentication and encryption, help to keep users' data safe and secure.
Another key feature of Gmail is its ability to sort and organize emails using labels, filters, and search functions. Users can create custom labels to categorize their emails and easily find specific messages using the search bar. Additionally, filters can be set up to automatically sort incoming emails into different labels or folders, making it easy to stay organized and on top of important messages.
In terms of storage, Gmail offers users a generous amount of storage space, with each user receiving 15 GB of storage for free. This storage can be used for emails, attachments, and Google Drive files. Additional storage can be purchased if needed.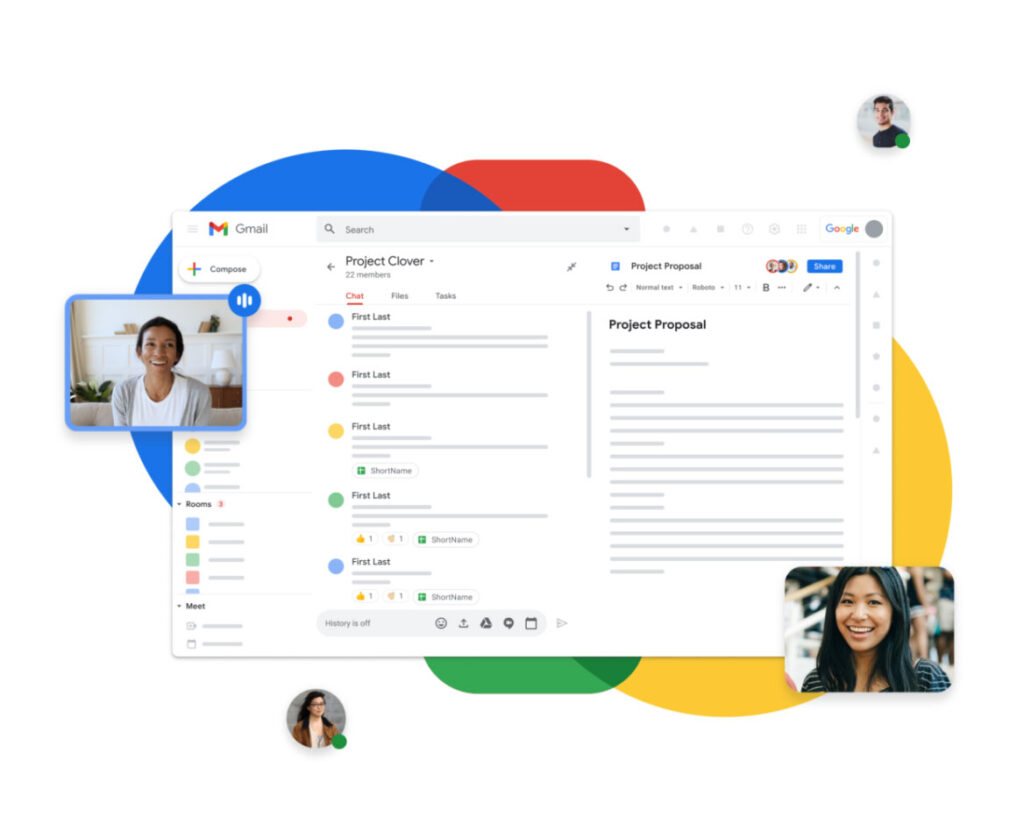 Gmail also offers a number of productivity tools to help users work more efficiently. For example, the Gmail mobile app allows users to access their emails and calendar on the go, while the offline mode allows users to continue working on emails and attachments even when they don't have an internet connection. Additionally, the quick action buttons in the Gmail interface make it easy to archive, delete, or mark emails as read without having to open them.
Despite its many benefits, there are also some downsides to using Gmail. For example, some users may find the interface to be cluttered or overwhelming, particularly when using it on a small screen. Additionally, while Gmail's spam filter is generally quite effective, some users may find that it occasionally blocks legitimate emails.
In terms of statistics, Gmail is one of the most widely-used email platforms in the world. According to a report from Statists, Gmail was the most popular email service in the United States in 2020, with over 250 million users. Additionally, a report from Radiates Group estimates that Gmail will have over 2.5 billion users worldwide by 2023.
In conclusion, Gmail is a powerful and feature-rich email platform that is an integral part of Google Workspace. Its integration with other Google services, advanced organizational and security features, and generous storage space make it a great choice for both personal and business use. While it may not be perfect for everyone, the many benefits of Gmail make it a strong choice for anyone looking for a reliable and feature-rich email platform.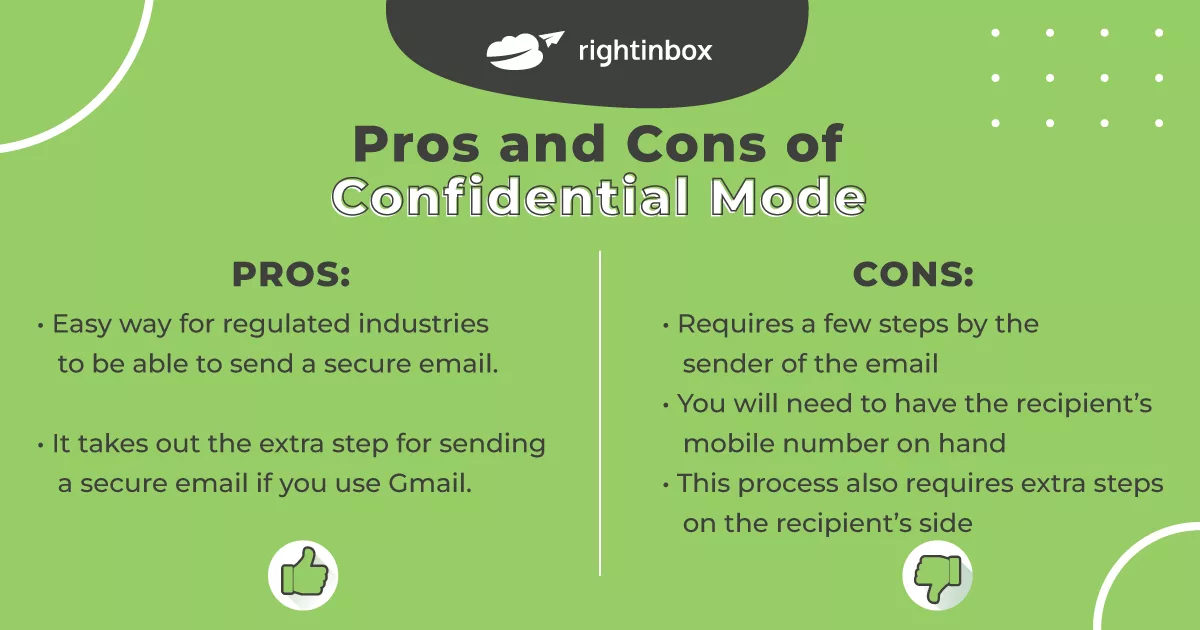 Pros:
Integration with other Google services such as Google Drive, Calendar, and Docs.
Built-in security features such as two-factor authentication and encryption.
Generous storage space of 15 GB for free.
Advanced organizational features such as labels, filters, and search functions.
Productivity tools such as the mobile app and offline mode.
Easy to use and navigate interface.
Large user base and wide compatibility with different devices.
Effective spams filter to keep unwanted emails at bay.
Available in multiple languages.
Google Workspace offers a wide range of tools for businesses and teams to collaborate and work together.
Cons:
Interface may be cluttered or overwhelming for some users.
Spam filter may occasionally block legitimate emails.
Additional storage space needs to be purchased.
Advanced features can be confusing for new users.
Limited customization options for the interface.
Some users may not like the targeted ads.
Limited support for certain email clients and protocols.
Limited functionality for tasks such as scheduling meetings.
Some users may find the web version slower than other email clients.
Limited ability to export data or move data to another email client.
Reviews
Gmail is my go-to email platform for both personal and professional use. The integration with other Google services like Google Drive and Calendar makes it easy for me to keep track of all my important files and appointments. The search and organizational features are top-notch, making it easy to find the emails I need quickly. The security features give me peace of mind knowing my information is protected. I highly recommend Gmail to anyone looking for a reliable and feature-rich email platform."
"I've been using Gmail for years and it never fails to impress me. The spam filter is incredibly effective, keeping my inbox clean and organized. The mobile app allows me to access my emails on the go, and the offline mode is a lifesaver when I'm traveling. The 15 GB of storage space is more than enough for my needs, and the integration with Google Drive is a huge plus. Overall, I couldn't be happier with my choice of email platform."
"As a small business owner, I rely on Gmail for all my professional communication needs. The integration with Google Workspace makes it easy for my team to collaborate and work together, even when we're working remotely. The security features give me the confidence to know that our company's information is protected. The search and organizational features make it easy for me to find important emails quickly. I highly recommend Gmail for any business looking for a reliable and feature-rich email platform."
"I've tried several different email platforms over the years, but none of them compare to Gmail. The user-friendly interface is easy to navigate, and the advanced organizational features make it easy to keep my inbox clean and organized. The mobile app is a game-changer, allowing me to access my emails on the go. The security features give me peace of mind knowing my information is protected. I highly recommend Gmail to anyone looking for a reliable and feature-rich email platform."
"Gmail has been my go-to email platform for as long as I can remember. The integration with other Google services is a huge plus, and the advanced organizational features make it easy to stay on top of my emails. The spam filter is incredibly effective, keeping my inbox clean and organized. The 15 GB of storage space is more than enough for my needs. Overall, I couldn't be happier with my choice of email platform."